Long-Time Champion of IARS Dr. Santhanam Suresh Steps into Role of Chair and New Officers Announced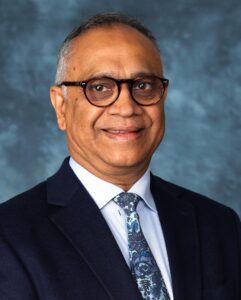 Santhanam Suresh, MD, MBA, FASA, FAAP, has assumed the role of Chair of the International Anesthesia Research Society (IARS) Board of Trustees effective April 1. A long-time champion of the IARS mission to improve patient care through research and education, Dr. Suresh has actively strived to further that mission through many roles during his service as an IARS Trustee. His strong dedication to the organization and the anesthesia community now take him into his next leadership role as IARS Board Chair.
In addition to Dr. Suresh's new position on the IARS Board of Trustees, the new officers have been announced. The officers include Immediate Past Chair Christian P. Werner, MD, Chair-Elect and Secretary Beverley A. Orser, MD, PhD, Treasurer Laura E. Niklason, MD, PhD and Journal Liaison Max B. Kelz, MD, PhD. Learn more about the IARS Board of Trustees here.
Dr. Suresh was elected to the Board of Trustees in May 2011. He was immediately appointed to the Annual Meeting Program Committee, where he served for four years and led the meeting program development transition to engaging the anesthesiology community in planning the education program. In 2013, he was appointed to lead the IARS participation in the SmartTots Public-Private Partnership with the FDA, a role in which he has Co-Chaired the Steering Committee for this important research initiative for the past nine years. His service to the IARS Board also includes five years as Board Liaison to the Anesthesia & Analgesia Journal and leadership of the IARS Teaching Awards Committee. Throughout his membership on the IARS Board, Dr. Suresh has been a strong advocate for the IARS mission and worked tirelessly in support of the anesthesia research community and the anesthesiology specialty.
Optimizing pain management in a variety of clinical contexts has long been the focus of much of Dr. Suresh's research and clinical practice. He has been instrumental in developing research that has transformed pain management in children nationally and internationally, specifically for his innovations in the use of nerve blocks for perioperative pain control in infants, children and adolescents. This research has led to innovations in the areas of diagnosis and management of chronic pain in children for the last two decades, publishing the results in high impact anesthesiology and pain management journals. His previous experience also includes work in acute and chronic pediatric pain management, regional anesthesia safety and efficacy, neurotoxicity, as well as pharmacokinetic studies. He is also nationally and locally involved in paradigms to reduce the opioid crisis we face.
Currently at Ann & Robert H. Lurie Children's Hospital of Chicago, Dr. Suresh is Senior Vice-President and Chief of Provider Integration, as well as Arthur C. King Board Designated Professorship in Anesthesiology at Northwestern University Feinberg School of Medicine. Through his clinical and leadership responsibilities, he is focused on optimizing pain management by developing a blueprint for a Center of Excellence in Pain Management for the hospital. Previously, he also served as the Chair in the Department of Pediatric Anesthesiology, Vice chairman and Director of research for the Department of Pediatric Anesthesiology at Lurie's Children's Hospital and as Chair of the Pain Practices Committee, and Chair of the Faculty Practice Plan.
Dr. Suresh's service to the specialty extends past his clinical and research roles. He has previously served as immediate past President of the American Board of Anesthesiology (ABA) and is a Director of the ABA where he contributed a wealth of knowledge and expertise to the role, furthering the ABA's mission to advance excellence in the practice of anesthesiology. He currently is an engaged contributor on the ABA's Assessments, Research and Pain Medicine Exam Committees. Among his many accomplishments, he also possesses an American Board of Pediatrics certification in Pediatrics, and ABA certification in Anesthesiology, Pain Medicine, and Pediatric Anesthesiology and participates in MOCA 2.0®. In addition, he has a Masters in Business Administration (MBA) from Northwestern's Kellogg School of Management.  He also serves as the Chair of the Annual Meeting oversight committee for the American Society of Anesthesiology (ASA). He is currently a member of the Anesthesia Review Committee for the ACGME.
His list of service to the specialty is lengthy and continually growing. Some of his contributions include chair of the Educational Track Subcommittee on Pediatric Anesthesia for the American Society of Anesthesiologists, and former member of the Board of Directors for Society for Pediatric Anesthesiology from 2006 – 2010. He also served as a board member of the American Society of Regional Anesthesia and Pain Medicine (ASRA) and on the editorial board of Regional Anesthesia and Pain Medicine. He received the Distinguished Service Award from ASRA in 2016.
IARS is pleased and privileged to have Dr. Suresh at the helm as IARS Chair for the coming year.
Support IARS
The IARS contributes more than $1 million each year to fund important anesthesia research. Your donation will help support innovative and forward-thinking anesthesia research and education initiatives, all of which are designed to benefit patient care. You can feel good knowing that 100% of your donation is directly allocated to research.