The IARS is committed to advancing the field of anesthesiology through a number of research and educational initiatives that benefit not only practicing anesthesiologists but also patients of all ages. We strive to provide you with the latest news through several education newsletters as well as the important updates on this page.
To search by keyword, select Ctrl + F on a PC and Command + F on a Mac. Then, enter keyword and Enter.
NOVEMBER 7, 2023
The Honourable Elizabeth Dowdeswell, Lieutenant Governor of Ontario and Chancellor of the Order of Ontario, has announced the appointment of IARS Board Chair Dr. Beverley Orser to the Order of Ontario for 2022. The Order of Ontario is Ontario's highest civilian honor and is presented for extraordinary contributions to the province.
In her announcement, Ms. Dowdeswell said, "A physician/scientist at Canada's largest trauma centre, Sunnybrook Health Sciences Centre, Dr. Beverley Orser is one of the world's leading researchers in anesthesiology whose ground-breaking work is focused on optimizing anesthesia, improving access to safe care in rural communities and mitigating post-operative delirium and cognitive decline. A global leader in medication safety, Dr. Orser is serving with the International Anesthesia Research Society and other international organizations, dedicating her life to pioneering research and advancing understanding of how anesthetic drugs alter brain function."
The 26 new appointments to the Order of Ontario for 2022 were announced on November 6. Appointments are typically announced the following year as nominations go through an extensive vetting and selection process. Nominations for the 2023 Order of Ontario closed in March 2023 and will be announced in 2024. More than 800 people have been recognized with the Order of Ontario since its creation in 1986.
"As Chancellor of the Order of Ontario, I am proud to recognize the Order's 2022 appointees. These remarkable Ontarians demonstrate outstanding merit and excellence in many diverse disciplines, including the arts, science, education, sports, and human rights," said Lieutenant Governor Dowdeswell. "In reflecting the best of Ontario, they inspire the best in ourselves. On behalf of a grateful province, I offer my warmest congratulations."
The incoming Lieutenant Governor, Edith Dumont, will bestow this highest honor to the new appointees during a ceremony on November 27, 2023. "On behalf of a grateful province, congratulations to the 2022 appointees of the Order of Ontario," said Michael Ford, Minister of Citizenship and Multiculturalism. "The Order of Ontario honours and celebrates impressive leaders and trailblazers who represent the best of our great province from a variety of sectors. Their outstanding dedication, achievements and lifetime of service have made a difference in their communities and in building a stronger Ontario."
Join us in congratulating Dr. Orser on receiving this exceptional recognition!
Read more: https://news.ontario.ca/en/backgrounder/1003769/the-2022-appointees-to-the-order-of-ontario.
OCTOBER 31, 2023
This month's "high-impact bundle" comprises three articles on capnography. One might ask, why are we highlighting capnography when it has been available since the 1980s? The cover art should give you a clue. Many, if not most, anesthesia providers in low- and middle-income countries (LMICs) do not have access to this essential monitor. Since pulse oximetry has become widely available everywhere, the call has gone out for a low-cost, reliable capnograph. Smile Train and Lifebox have answered that call, and in this issue of Anesthesia & Analgesia, the focus is on the result of their efforts. A new dual capnograph and oximeter is presented, accompanied by a well-thought-out education program. There is also a challenge to anesthesiologists, anesthesia societies, nongovernmental organizations, and ministries of health: How can capnographs be provided to colleagues working in underresourced areas? If we do not advocate for, and assist in, procurement, it may take many years before patients in LMICs can reap the benefit of the increased safety provided by using capnography.
Getting Capnography to the Front Lines
Capnography — An Essential Monitor, Everywhere: A Narrative Review
OCTOBER 31, 2023
Congratulations are in order for Anesthesia & Analgesia's Editor-in-Chief Professor Jaideep Pandit, Professor of Anaesthesia and Fellow and Tutor in Medicine at St John's, who has been awarded the Sir Ivan Magill Gold Medal of the Association of Anaesthetists, the organization's most prestigious honor. He becomes only the 8th recipient of the Medal in the Association's 90-year history. With his award of the Royal College of Anaesthetists' Gold Medal last year, Professor Pandit becomes the first person ever to receive the highest awards of both the UK's national anesthesia organizations.
Professor Pandit reflected, "I am truly honored to receive the Magill Medal – the past recipients can be said to have laid the foundations of our specialty through innovation, and to be regarded as following in their footsteps in even a small way is humbling. To find myself now in receipt of the Gold Medals of both the Association and the Royal College is an honor that reflects the efforts of so many people in my team and beyond, and I hope also reflects the strength of UK science and the contribution we can collectively make to the specialty as a whole."
OCTOBER 31, 2023

OCTOBER 31, 2023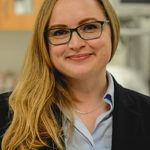 Lara Wiley Crock, MD, PhD, MSCI
Assistant Professor,
Division of Pain Management,
Department of Anesthesiology,
Washington University School of Medicine
St. Louis, MI
A car accident during medical school profoundly affected Dr. Lara Wiley Crock, MD, PhD, MSCI's life. Fortunate to recover, she became more aware of the many patients in the clinical settings who did not fully recover and set out to understand why. This curiosity propelled Dr. Crock down a path to better understand pain and how research may be able to influence patient outcomes related to it. With the help of a 2019 IARS Mentored Research Award, she began to unravel those unknowns with a study, "Role of the Microbiome in the Persistence of Complex Regional Pain Syndrome," focused on identifying gut microbiota differences in acute and chronic pain due to specific pain condition and determining if this information could predict who would develop chronic pain after an acute injury by their microbiota differences. In examining patients with chronic complex regional pain syndrome (CRPS) and household members without CRPS as a control, they found something that no one had observed before. About 50% of participants with CRPS lived with someone with chronic pain (as opposed to a 20% prevalence in the general population). Although this is just an observation in this adult population, this finding may well be an independent risk factor for the development of chronic pain. Dr. Crock and her research collaborators continue to pursue answers to this question, making progress towards early identification of patients at high risk for the development of chronic pain and preventing its development. In the following interview, she shares her research journey, how the IMRA helped her progress in her career as a researcher and her hopes for the future of the study of pain. Read more.
OCTOBER 31, 2023
Submit your abstracts now for the 2024 Annual Meeting, presented by IARS and SOCCA, May 17-19, in Seattle, WA. Don't miss your chance to share your expertise, gain recognition, and interact with colleagues in the anesthesiology community.
The abstract submission deadline is December 8, 2023.
OCTOBER 31, 2023
Infection prevention is a critical element of perioperative quality and safety, underscored by the SARS-CoV-2 pandemic and the global rise of antimicrobial resistance. This session will cover the role of anesthesiologists as perioperative physicians in implementing evidence-based clinical practices for infection prevention, advancing the science of this field, and effectively advocating for standards that protect our patients and ourselves. Speakers will address topics including occupational health, emerging pathogens, evidence for infection prevention in the anesthesia work area, and implementation of associated quality improvement programs.
The Role of Antimicrobial Resistance and the Patient Microbiome in Healthcare-Associated Infection
Moderator and Presenter: Dustin R. Long, MD, University of Washington
Transmission of Pathogens within the OR and the Anesthesia Work Area
Presenter: Randy Loftus, MD, Mayo Clinic
Protecting Patients and Healthcare Providers from Aerosol Transmissible Respiratory Diseases
Presenter: Andrew Bowdle, MD, PhD, FASE, University of Washington
Implementation of Evidence-Based Interventions in Perioperative Infection Prevention
Presenter: Jeremiah R. Brown, PhD, Dartmouth University
OCTOBER 31, 2023
View meetings and events from the IARS and the anesthesia community on the Anesthesia Community Events Calendar. If you have a meeting or event you would like to include on this calendar, email [email protected]. Please include the date, time, location and website URL for the meeting or event.
OCTOBER 31, 2023
Now available for IARS full members! Explore webinars from 2021, 2022 and 2023 and claim CME credits. IARS full members can view the recordings here.
OCTOBER 31, 2023
Session recordings from the IARS 2023 Annual Meeting are now available to IARS members. IARS members can also claim CME credit from the 2021, 2022 and 2023 Annual Meetings.
OCTOBER 31, 2023
In their prospective case-control study, investigators studied short-term neurocognitive function after early anesthesia exposure. Subjects include 39 children ages 1-36 months hospitalized for noncardiac surgery (anesthesia group [AG] and a control group [CG]) of 20 healthy children. Findings show the AG with statistically and clinically lower baseline cognitive scores than the CG. The postanesthesia composite cognitive scores for most of the AG were statistically higher than their baseline scores, but without clinical significance. Seven children in the AG group had lower cognitive scores after anesthesia exposure. Read more.
OCTOBER 31, 2023
View this Left Ventricular Systolic Function Assessment, 3-Part Video Episode
OCTOBER 31, 2023
Dr. Faith Ross and OpenAnesthesia Editor Dr. Elisha Peterson discuss racial/ethnic disparities in pediatric congenital heart disease and the impact of Medicaid expansion.
OCTOBER 31, 2023
New series! Drs. Emily Methangkool and Albert Tsai discuss why he went into cardiac anesthesiology and tips for fellowship applications.