COVID-19 Published Guidelines and Reviews
The COVID-19 Scientific Advisory Board has compiled and examined published guidelines and reviews on COVID-19 and have provided a collection of those most helpful and relevant for frontline providers below. New guidelines and reviews will be added to this page on a recurring basis.
To search by keyword, select Ctrl + F on a PC and Command + F on a Mac. Then, enter keyword and Enter.
Governmental Resources
US Food and Drug Administration (FDA)
Coronavirus Disease 2019 (COVID-19) Resource List. US Food & Drug Administration.
In both English and Spanish and continually updated, this website is extensive but provides access to the latest FDA authorization of drugs, vaccines and testing.
Centers for Disease Control and Prevention (CDC)
Guidance for COVID-19.
An extensive, continually updated website with an enormous amount of information. The hundreds of guidance documents are best navigated with the well-placed search function rather than trying to find what you want on your own.
Morbidity and Mortality Weekly Reports
Review the reports recommended by the SAB here.
National Institutes of Health (NIH)
NIH COVID-19 Treatment Guidelines
Excellent, frequently updated, easily navigated website with expert opinions from a diverse panel of academic COVID-19 experts. The "What's New" and "Table of Contents" provide rapid access to referenced information on all forms of COVID-19 treatment.
Non-Governmental Resources
Infectious Diseases Society of America (IDSA). 11/18/21.
This website provides Infectious Diseases Society of America (IDSA) Guidelines on the Treatment and Management of patients with COVID-19. The IDSA frequently updates the site with their carefully considered and well-organized distillation of current knowledge. In particular, their Summary Table titled, "Overview of COVID-19 Treatment Guidelines" is particularly concise and informative. This IDSA guideline link will be placed in the IARS Published Guidelines and Reviews web page for future reference.
Omicron Variant Patient Profile in South Africa. 12/6/21. SAMRC.
Readers interested in following the progress of the Omicron variant in South Africa, where it was first identified on November 24, 2021, are directed to the website of the South African Medical Research Council (SAMRC). This site provides access to a developing patient profile of the impact of the Omicron surge on hospitalization and outcomes here.
American Society of Anesthesiologists (ASA)
ASA's Statements and Recommendations on COVID-19. American Society of Anesthesiologists.
This easily navigated COVID-19 resource serves as a statement and guideline website for the American Society of Anesthesiologists and is updated as indicated. Includes 20+ "Statements and Recommendations" that focus on surgery, anesthesia and safety; an extensive "Frequently Asked Questions" section; and a variety of other resources including webinars and podcasts.
Society of Critical Care Medicine (SCCM)
https://www.sccm.org/Clinical-Resources/Disaster/COVID19
At this site SCCM offers a variety of COVID-19 resources available without membership, including a Rapid Resource Center for educational materials, Surviving Sepsis Campaign COVID-19 Guidelines, COVID-19 journal articles from SCCM publications, and complimentary online training in critical care for non-ICU clinicians.
Elsevier
Elsevier COVID-19 Healthcare Hub
A well-organized collection of clinical resources focused on the latest evidence-based practices, covering symptom management, diagnosis, treatment and ongoing wellness. Provides succinct and well referenced summaries of many aspects of SARS-CoV-2 infection in English and Spanish. It also provides links to other COVID-19 content hubs, including Springer Nature, Wiley, NEJM, BMJ, American Society for Microbiology, American College of Cardiology, etc.
Center for Science in the Public Interest
COVID-19 Evidence Hub. Center for Science in the Public Interest.
CSPI is a fifty-year old independent science-based consumer advocacy organization. This site provides a hub that aggregates more than 35 international databases related to evidence on diagnosis, vaccines, drug treatments, therapeutic interventions and public health measures for COVID-19.
Open Critical Care (OCC)
Open Critical Care Portal: The hub for critical care education tools
OCC is a collaborative recently initiated by the University of California San Francisco (UCSF), partnering with Brigham & Women's Hospital (BWH) and other organizations such as Partners in Health. Their site is currently in beta mode and offers open access critical care educational resources styled for independent learning as well as institutional curricula. It includes a COVID-19 Guidelines Dashboard that aggregates recommendations from multiple health authorities into a consensus for each therapy, a series of detailed protocols developed at BWH on many aspects of COVID-19, and also apps applicable to acute respiratory failure in general.
Summaries of Special COVID-19 Topics
The Virus, The Vaccines, and The Variants
IARS COVID-19 Resource Newsletter, #98. Posted August 30, 2021. This brief review provides a concise explanation the relationship between the virus, the vaccines and the variants. 27 references.
[Author: Robert N. Sladen, MBChB, FCCM, on behalf of the IARS Scientific Advisory Board]
Vaccine-Induced Immune Thrombotic Thrombocytopenia (VITT)
IARS COVID-19 Resource Newsletter, #79. Posted April 21, 2021. This brief review provides a concise explanation of what is known about this rare but newsworthy vaccine induced problem. 5 references.
[Author: Robert N. Sladen MBChB, FCCM on behalf of the IARS Scientific Advisory Board]
Long COVID
IARS COVID-19 Resource Newsletter, #76. Posted April 12, 2021. This is an excellent summary of the prolonged impairment of functional capacity after COVID-19. 30 references.
[Author: Robert N. Sladen MBChB, FCCM on behalf of the IARS Scientific Advisory Board]
NIH Therapeutics Recommendations (Updated March 2, 2022)
Based upon data generated during the Omicron variant surge, the NIH has revised its recommendations for antiviral therapeutics for non-hospitalized patients with mild-moderate COVID-19 at high risk of progression to severe disease. The drugs are ranked by order of preference. For a full list, visit https://www.covid19treatmentguidelines.nih.gov/therapies/statement-on-therapies-for-high-risk-nonhospitalized-patients/.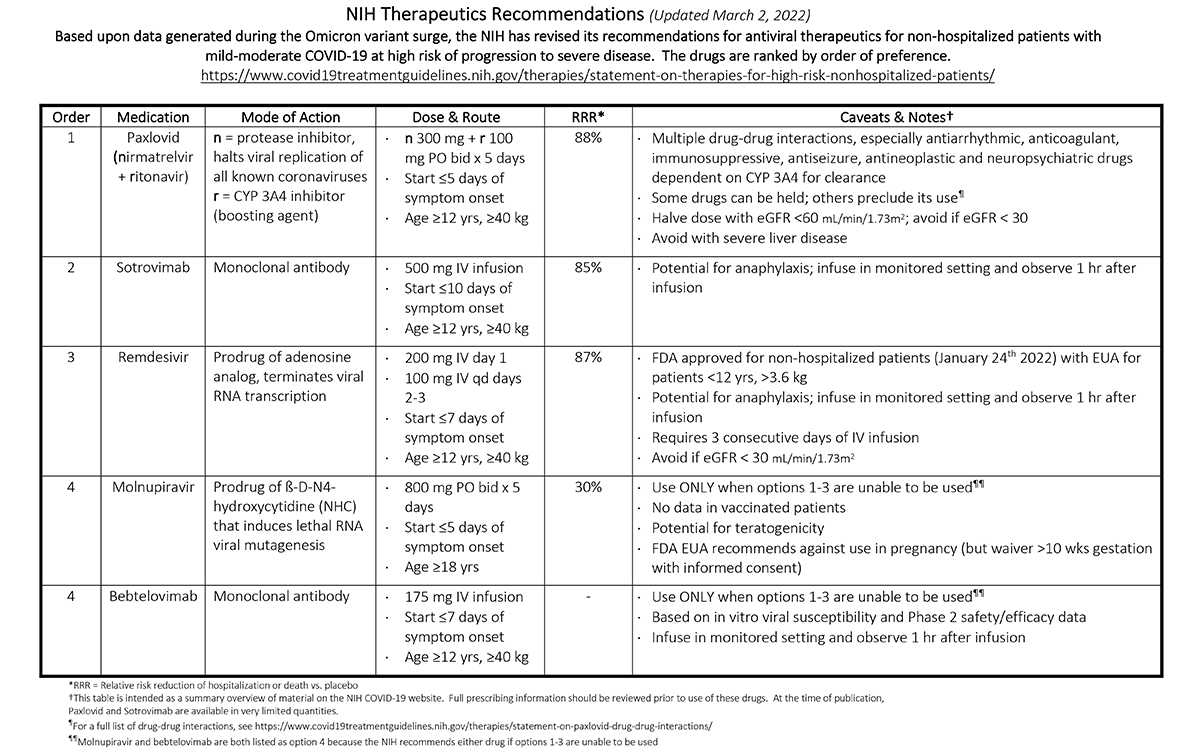 Support IARS
The IARS contributes more than $1 million each year to fund important anesthesia research. Your donation will help support innovative and forward-thinking anesthesia research and education initiatives, all of which are designed to benefit patient care. You can feel good knowing that 100% of your donation is directly allocated to research.