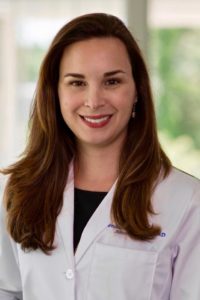 Kendall Smith, MD, PhD
Assistant Professor
Washington University in St. Louis
St. Louis, MO
Role of Transcriptomic Circadian Rhythms in Postoperative Delirium
Kendall Smith, MD, PhD, Assistant Program Director for Residency Affairs and Associate Program Director for the Anesthesiology Critical Care Medicine Fellowship at Washington University in St. Louis, shares her current and future goals to uncover the mysteries behind circadian rhythms in perioperative medicine and to ­better understand their role in delirium with her award-winning research that secured her the 2021 IARS Mentored Research Award.
Can you give me a brief overview of what it is you do in your daily work?
I am a general anesthesiologist and intensivist at Washington University in St. Louis with a strong interest in clinical research and education. I obtained a substantial amount of protected research time via our departmental T32 training grant, which has allowed me to pursue my work focused on circadian rhythms in perioperative medicine and their role in clinical outcomes such as delirium. I also enjoy working with trainees — from undergraduates to fellows. I currently serve as the Assistant Program Director for Residency Affairs as well as Associate Program Director for the Anesthesiology Critical Care Medicine Fellowship here at WashU.
Is there anyone else you wish to acknowledge as part of this research team?
​I would like to acknowledge Dr. Michael Avidan for supporting me in my academic career here at WashU. From a research standpoint, we share common interests in circadian biology, sleep, as well as postoperative delirium. I'd also like to acknowledge my primary mentor Dr. Ben Palanca and the entire Palanca laboratory team for their support and camaraderie. I am also grateful to Drs. Erik Musiek and Yo-El Ju, who have supported me as secondary mentors with unparalleled neurological, circadian, and sleep research expertise. Drs. Musiek and Ju are also co-directors of the WashU Center on Biological Rhythms and Sleep (COBRAS), which makes WashU an excellent academic environment for pursuing basic and clinical research on circadian rhythms and sleep.
What drew you to this area of research?
Quite simply, my patients are my inspiration. During my training as an anesthesiology resident and critical care fellow at Duke University, I cared for many patients who experienced perioperative and ICU delirium and developed complications as a result. During fellowship I initiated a project aimed at preventing ICU delirium via nonpharmacologic methods. Several interventions targeted improving sleep hygiene, which piqued my interest in exploring circadian disruption as a potential contributor to transient neurocognitive disorders such as perioperative and ICU delirium. 
What is the goal of your research?   
We don't know much about the pathophysiology of postoperative delirium or whether molecular circadian dysfunction is a contributing factor. This project will be an important first step in addressing these knowledge gaps and will allow us a first glimpse into molecular circadian rhythms across the perioperative continuum.
What is the potential impact of your research on the field of anesthesia?
We hope to gain greater insight into the pathophysiology of postoperative delirium in order to better prevent and treat it. More broadly, these types of omics studies may one day help us shift our perioperative clinical approach towards one that is more precision-based.
How do you feel about receiving the IARS Mentored Research Award?
​I am truly excited about this opportunity from the IARS and am very encouraged that leaders in our specialty find this project interesting as well. 
How will this award affect your research/professional trajectory?
There is no doubt that this IARS award will positively affect my research trajectory not only by providing funding for these early experiments, but also by allowing me additional protected time to pursue important scientific questions.
Once you complete this mentored research award, what's next for you? What's your vision for the future?
This IARS award will help me generate the preliminary data needed to support larger studies aimed at understanding molecular circadian rhythms in relation to perioperative outcomes such as delirium. These studies will undoubtedly lead to more intriguing scientific questions that I look forward to tackling. With the right team and environment, we will continue to move the needle forward for our perioperative and ICU patients.
Support IARS
The IARS contributes more than $1 million each year to fund important anesthesia research. Your donation will help support innovative and forward-thinking anesthesia research and education initiatives, all of which are designed to benefit patient care. You can feel good knowing that 100% of your donation is directly allocated to research.