2015 IARS Mentored Research Award $150,000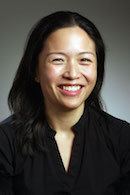 Erica P. Lin, MD
Associate Professor,
Department of Anesthesiology,
Division of Pediatric Cardiac Anesthesia
Cincinnati Children's Hospital Medical Center
Cincinnati, OH
Dr. Lin's Research
Protective anesthetic strategies during neonatal brain ischemia.
Because of its limited ischemic tolerance, even brief episodes of hypoxia-ischemia can result in structural brain injury and lasting cognitive impairment. Pediatric anesthesiologists encounter this clinically during complex surgeries employing techniques like deliberate hypotension, low-flow states, or even circulatory arrest. Given that surgical practices cannot be easily altered, the focus shifts to modifiable factors that could potentially alter the outcome, such as the type of anesthetic used for procedures with high risk for hypoxic-ischemic episodes.
Dr. Lin and her team will be conducting a study to determine whether a volatile anesthetic-based technique (sevoflurane) can protect the neonatal brain during hypoxia-ischemia compared with a volatile anesthetic-sparing regimen (fentanyl/midazolam), utilizing the widely used Rice-Vannucci infant rodent model. Dr. Lin will focus on the following comparisons of these two anesthetic techniques: 1) physiologic profiles, 2) short-term outcome of neonatal brain ischemia on cerebral structure, and 3) long-term neurocognitive outcome after neonatal brain ischemia. Since both these techniques are used in clinical practice, the findings from this study will have high translational impact, whether improved neuroprotection is demonstrated with either technique or not.
Related Publications
A combination of mild hypothermia and sevoflurane affords long-term protection in a modified neonatal mouse model of cerebral hypoxia-ischemia.
Lin EP, Miles L, Hughes EA, McCann JC, Vorhees CV, McAuliffe JJ, Loepke AW.
Infant brain injury from hypoxia-ischemia (HI) can lead to life-long impairment, but protective strategies are lacking. Short-term but not long-term protection has been demonstrated in the Rice-Vannucci neonatal brain ischemia model (RVM) by volatile anesthetic administration before HI, while exposure during HI has not been tested. In the current study, we evaluated a combination of sevoflurane and mild hypothermia…
Anesthetic neurotoxicity.
Lin EP, Soriano SG, Loepke AW.
All routinely utilized sedatives and anesthetics have been found neurotoxic in a wide variety of animal species, including non-human primates. Neurotoxic effects observed in animals include histologic evidence for apoptotic neuronal cell death and subsequent learning and memory impairment. Several cohort studies in neonates…
Read Dr. Lin's recent publications and articles.