2015 IARS Mentored Research Award Recipient Interview: Erica P. Lin, MD
Protective Anesthetic Strategies during Neonatal Brain Ischemia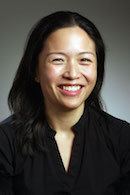 Erica P. Lin, MD
Associate Professor,
Department of Anesthesiology,
Division of Pediatric Cardiac Anesthesia
Cincinnati Children's Hospital Medical Center
Cincinnati, OH
​In 2015, as an Assistant Professor in the Department of Anesthesiology at the Cincinnati Children's Hospital Medical Center, Erica P. Lin, MD, was recognized with an IARS Mentored Research Award for her research focused on "Protective Anesthetic Strategies during Neonatal Brain Ischemia." The study aimed to demonstrate an alternative anesthetic technique that could be protective during cerebral hypoxic-ischemia. Unfortunately, the demanding clinical needs of her research team prevented Dr. Lin and her team from obtaining lab time and stood in the way of progress on this investigation and made it impossible to complete the study. In 2017, their lab closed and Dr. Lin decided to return a significant portion of her IMRA funding. While this challenging experience led Dr. Lin to abandon bench research, she still participates in clinical studies within the pediatric cardiac division group at her institution today. Thankfully, the IMRA study journey was not without some silver linings. The opportunity did help Dr. Lin to be promoted to Associate Professor of Clinical Anesthesia. Additionally, the obstacles she faced with clinical demands on her team during the IMRA-funded study spurred her to adjust her academic focus to address this issue, now focusing on developing resiliency tools to help clinicians flourish. Below, Dr. Lin discusses her research journey, her new academic focus and the benefits of the IMRA award for clinician-scientists.
1. What is your current position? How long have you been in this position? What was your role when you were first funded by IARS?
Currently, I am Associate Professor of Clinical Anesthesia, since 09/2016. I was an Assistant Professor when I was first funded by IARS.
2. What was the goal of your initial research project? Was it met?
The goal was to demonstrate an alternative anesthetic technique that could be protective during cerebral hypoxic-ischemia — I did not meet this goal. The clinical needs of our team made it impossible to get lab time. I actually returned a significant portion of the funding. Our lab closed in 2017.
3. Has your research subject area evolved since the award?
I am not doing bench research anymore. I've participated in some clinical studies within our pediatric cardiac division group. My academic focus overall has shifted to helping clinicians become resilient and flourish. 
4. How did the award affect your research/professional trajectory?
It definitely helped me get promoted. I have a healthy appreciation for ALL researchers, having worked in a lab for many years. Grant cycles are brutal! Clinician-scientists have the added burden of trying to straddle the two worlds of research and clinical medicine.
5. How do you feel about having received the IARS Mentored Research Award?
It was a great honor.
6. What would you like to convey to our donors, the people who made this award possible?
The pool of clinician-scientists continues to dwindle in anesthesiology, so thank you for supporting those who are in the trenches.
7. What drew you to academic anesthesiology and to your particular area of research?
I was drawn to academic anesthesiology because I enjoy teaching trainees. It forces a person to stay current. The learning goes both ways: I've learned so much from my trainees. They give me a glimpse into how things work at institutions other than my own! 
8. What is something that someone would be surprised to learn about you?
I enjoy lifting weights. 
9. What do you hope for the future of anesthesia research?
I hope those who aspire to conduct anesthesia research feel supported in their work.
"[The IMRA] definitely helped me get promoted. I have a healthy appreciation for ALL researchers, having worked in a lab for many years. Grant cycles are brutal! Clinician-scientists have the added burden of trying to straddle the two worlds of research and clinical medicine."
– 2015 IARS Mentored Research Award Recipient Erica P. Lin, MD