2018 IARS Mentored Research Award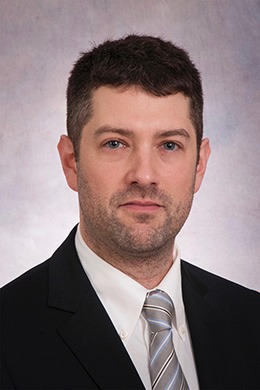 Neil Goldenberg, MD, PhD
Staff Anesthetist
Department of Anesthesia and Pain Medicine
Scientist, Program in Cell Biology
The Hospital for Sick Children
Assistant Professor, Departments of Anesthesia and Pain Medicine and Physiology
John Alchin and Hal Marryatt Early Career Professor in Anesthesiology and Pain Medicine
The University of Toronto
Toronto, Ontario, Canada
Dr. Goldenberg's Research
The Role of HMGB1 in Pulmonary Hypertension
Pulmonary Hypertension (PH) is a devastating, often fatal, disease that carries a high perioperative risk. In the USA, PH accounts for 200,000 hospitalizations and 15,000 deaths per year. Subgroups of PH patients with pulmonary arterial hypertension (PAH) have less than 40% survival at 3 years. PAH, arising from genetic, idiopathic, cardiac, or rheumatological causes, exhibits the worst long-term survival overall.
Perioperative management of PH is challenging — in spite of best efforts, mortality in a cohort with severe PH was 10%. A group of patients with only mild PH was still found to have a PH-related serious complication rate of 29%. The management of PH and RV failure remains one of the greatest challenges for anesthetic care.
While PAH was thought to be a disease of vasoconstriction, inflammation is now known to drive pathogenesis. In prior work, we have shown the importance of mast cells and B cells in the pathogenesis of PAH. Our studies led to the atypical cytokine, High Mobility Group Box-1 (HMGB1), as a mediator of PAH.
Our overall objective is to delineate the inflammatory underpinnings of PAH. Our central hypothesis is that HMGB1 drives the development of PAH via its effect on both the lung parenchyma and the immune system. Furthermore, blocking HMGB1 secretion or signalling may yield a novel strategy for treating PAH.
Using the Sugen-hypoxia rat model of PAH, we will measure hemodynamics, echocardiography, histology, and biochemistry. HMGB1 will be blocked using a novel peptide inhibitor that specifically interrupts HMGB1-TLR4 signalling. In vitro assays will probe secretory pathway dynamics, proliferation, and macrophage phenotype.
Our proposed studies will provide insights into the inflammatory mechanisms of PAH. These insights can be translated to the bedside using the novel peptide inhibitor tested herein. Our goal is to perform fundamental research with translational significance in order to tackle this devastating disease state.
Related Publications
Inflammation Drives Pulmonary Arterial Hypertension
Neil M. Goldenberg, M.D., Ph.D.; Benjamin E. Steinberg, M.D., Ph.D.
Patients with pulmonary arterial hypertension (Group 1 pulmonary hypertension, including idiopathic, heritable, connective tissue disease–associated, congenital heart disease–associated pulmonary arterial hypertension, and others) present for noncardiac surgery with an exceptionally high risk of morbidity and mortality even when compared to patients with other forms of pulmonary hypertension. Current pulmonary arterial hypertension–specific therapies are primarily pulmonary vasodilators. Yet pulmonary vasoconstriction only partially explains disease pathology, and the development of better therapies necessitates a deeper understanding of pulmonary arterial hypertension pathogenesis. Indeed, evidence links the immune system to pulmonary arterial hypertension pathogenesis and has fundamentally shifted our understanding of the disease mechanism.
Therapeutic Targeting of High Mobility Group Box-1 in Pulmonary Arterial Hypertension
Neil M Goldenberg ; Yijie Hu ; Xudong Hu , Allen Volchuk , Yidan D Zhao , Mariya M Kucherenko ; ; Christoph Knosalla ; Marc de Perrot , Kevin J. Tracey , Yousef Al-Abed , Benjamin E Steinberg ; Wolfgang M Kuebler
The importance of the immune system in pulmonary arterial hypertension (PAH) pathogenesis is increasingly recognized by clinicians and scientists. Immune cells are recruited to the lungs of PAH patients, and preclinical studies have demonstrated their requirement for disease progression. The importance of the human immune system in PAH pathogenesis is underscored by our recent finding that mice, which do not develop robust experimental pulmonary hypertension (PH), are rendered susceptible to severe disease when reconstituted with human immune tissue. Consequently, several clinical trials are investigating immunomodulation as PAH treatment.