2014 IARS Mentored Research Award $150,000
2014 IARS Mentored Research Award $150,000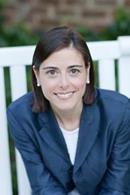 Nadia Lunardi, MD, PhD
Associate Professor of Anesthesiology,
Neuro Anesthesia Division Chief,
University of Virginia School of Medicine,
Charlottesville, VA
Dr. Lunardi's Research
Anesthesia-induced impairments of developmental synaptic plasticity
While many studies have focused on the morphological fate of neurons dying by general anesthesia-induced developmental apoptosis, little is known about what happens to the organization and function of surviving synapses. Dr. Lunardi's aim is to decipher the mechanisms of GA-induced impairment of developmental synaptic transmission, so that tools can be developed to target its causative pathways and provide safer anesthesia.
Related Publications
Early Exposure to General Anesthesia Disrupts Spatial Organization of Presynaptic Vesicles in Nerve Terminals of the Developing Rat Subiculum.
Lunardi N, Oklopcic A, Prillaman M, Erisir A, Jevtovic-Todorovic V.
Exposure to general anesthesia (GA) during critical stages of brain development induces widespread neuronal apoptosis and causes long-lasting behavioral deficits in numerous animal species. Although several studies have focused on the morphological fate of neurons dying acutely by GA-induced developmental neuroapoptosis, the effects…
vEarly Exposure to General Anesthesia with Isoflurane Downregulates Inhibitory Synaptic Neurotransmission in the Rat Thalamus.
Joksovic PM, Lunardi N, Jevtovic-Todorovic V, Todorovic SM.
Recent evidence supports the idea that common general anesthetics (GAs) such as isoflurane (Iso) and nitrous oxide (N2O; laughing gas) are neurotoxic and may harm the developing mammalian brain, including the thalamus; however, to date very little is known about how developmental exposure to GAs may affect synaptic transmission in the thalamus…
Read Dr. Lunardi's recent publications and articles.