2011 Teaching Recognition Award for Innovation in Education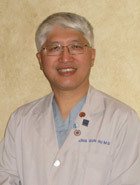 Ling Qun Hu, MD
Founder and Chief Executive Director, No Pain Labor N' Delivery
Northwestern University Feinberg School of Medicine
Chicago, Illinois
The IARS Innovation in Education Award recognizes and funds novel concepts or applications that improve educational programs and advance the practice of anesthesiology. Candidates at every career stage are welcome to apply, but must demonstrate recent and documented implementation of these new educational tools and practices.
"No Pain Labor N' Delivery" is a volunteer global health initiative to China that was initiated in 2006 by Dr. Ling Qun Hu, Assistant Professor of Anesthesiology at Northwestern University. The project's first, formal initiatve was in 2008 at the Women's Hospital School of Medicine Zhejiang University. The mission is to publicize neuraxial labor analgesia, alter the currently high cesarean section rate in China, and improve the safety of the mothers, the fetuses, and the newborns. As part of Dr. Hu's 10 year plan (2008-2018) for "No Pain Labor N' Delivery" the goal is to establish at least ten (10) dedicated academic obstetric anesthesia training centers across mainland China.
Read more about the No Pain Labor N' Delivery initiative
Support IARS
The IARS contributes more than $1 million each year to fund important anesthesia research. Your donation will help support innovative and forward-thinking anesthesia research and education initiatives, all of which are designed to benefit patient care. You can feel good knowing that 100% of your donation is directly allocated to research.