2011 Teaching Recognition Award for Innovation in Education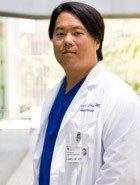 Lawrence Chu, MD, MS
Associate Professor – Med Center Line, Anesthesiology, Perioperative and Pain Medicine
Stanford School of Medicine
Palo Alto, California
Director, Stanford Anesthesia Informatics and Media Lab
Executive Director of Stanford Medicine X
Dr. Chu's innovative project, START – Successful Transition to Anesthesia Residency Training, is an online blended learning program designed to teach CB-1 interns the fundamentals of anesthesia prior to beginning anesthesia residency training.
Read more about Dr. Chu's work at the Stanford Anesthesia Informatics and Media Lab
Related publications
Preparing Interns for Anesthesiology Residency Training: Development and Assessment of the Successful Transition to Anesthesia Residency Training (START) E-Learning Curriculum. Chu LF, Ngai LK, Young CA, Pearl RG, Macario A, Harrison TK.
The transition from internship to residency training may be a stressful time for interns, particularly if it involves a change among programs or institutions after completing a preliminary year.
Mobile computing in medical education: opportunities and challenges. Chu LF, Erlendson MJ, Sun JS, Alva HL, Clemenson AM.
There is an increasing importance of incorporating mobile computing into the academic medical environment. A growing majority of physicians, residents and medical students currently use mobile devices for education, access to clinical information and to facilitate bedside care. Therefore, it is important to assess the current opportunities and challenges in the use of mobile computing devices in the academic medical environment.
Support IARS
The IARS contributes more than $1 million each year to fund important anesthesia research. Your donation will help support innovative and forward-thinking anesthesia research and education initiatives, all of which are designed to benefit patient care. You can feel good knowing that 100% of your donation is directly allocated to research.