2011 SCA-IARS Starter Grant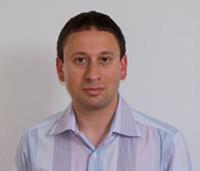 Jayant Nick Pratap, MB BCHir, MRCPCH, FRCA
Congenital Cardiac Anesthesiologist, Department of Anesthesia
Attending Cardiac Intensivist, Heart Institute
Assistant Professor, UC Department of Anesthesia
Cincinnati Children's Hospital Medical Center
Cincinnati, Ohio
Dr. Pratap's Research
Randomized trial of near-infrared spectroscopy to guide intraoperative and intensive care management during children's heart surgery.
Related Publications
Anesthetic management of children with in situ Berlin Heart EXCOR.
Pratap JN, Wilmshurst S.
Modern mechanical devices can support children with severely impaired cardiac function until a donor heart is found for transplantation or native function recovers. Pediatric heart transplantation offers a good chance of survival with a high quality of life to individuals with limited life expectancy…
Failure to wean from cardiopulmonary bypass due to left atrial compression by periaortic hematoma.
Pratap JN, McEwan AI.
A 6-mo-old male presented for reoperative surgery after a prior incomplete arterial trunk repair. Full repair had not been possible in the neonatal period owing to intrauterine growth restriction (2.15 kg at 38 wk gestation), low cardiac output state, ventilator dependence, and unfavorable anatomy, including interrupted aortic arch and…
Read Dr. Pratap's recent publications and articles.
Support IARS
The IARS contributes more than $1 million each year to fund important anesthesia research. Your donation will help support innovative and forward-thinking anesthesia research and education initiatives, all of which are designed to benefit patient care. You can feel good knowing that 100% of your donation is directly allocated to research.