2017 IARS Mentored Research Award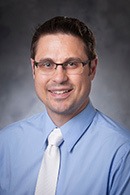 Jamie Privratsky, MD, PhD
Associate Professor
Department of Anesthesiology
Department of Pharmacology and Cancer Biology
Duke University Medical Center
Durham, North Carolina
Dr. Privratsky's Research
The role of macrophage IL-1 signaling in acute kidney injury and recovery
Acute kidney injury (AKI) dramatically increases morbidity and mortality and is one of the most common forms of organ failure in perioperative and critically ill patients. Unresolved AKI leads to ongoing renal injury, fibrosis, and subsequent chronic kidney disease (CKD), which is a major risk factor for future cardiovascular events. The mechanisms that direct renal recovery after AKI and prevent the AKI to CKD transition are poorly understood. Based on preliminary data, our central hypothesis is that IL-1R1 activation sustains detrimental macrophage polarization to drive AKI and promote the AKI to CKD transition, culminating in kidney fibrosis. Our specific aims are as follows:
Specific Aim 1: Determine effects of IL-1R1 signaling on renal macrophage polarization during AKI. Mice with macrophage-specific deletion of IL-1R1 (IL-1R1 MKO) and controls will be subjected to ischemia/reperfusion (I/R)-induced AKI. We will measure the severity of kidney damage, assess the polarization of infiltrating macrophages via fluorescent cell sorting and RT-PCR, and characterize injury in renal tubular cells following co-culture with isolated WT and IL-1R1 MKO macrophages from injured kidneys.
Specific Aim 2: Determine effects of IL-1R1 signaling on the development of renal fibrosis following AKI. We will subject IL-1R1 MKO mice and littermate controls to I/R-induced AKI and 28 days later examine the extent of kidney fibrosis. At multiple timepoints, intra-renal macrophages will be phenotyped by fluorescent cell sorting and analyzed for pro-inflammatory and pro-fibrotic gene expression by RNAseq. The capacity of a commercially available IL-1R1 antagonist to alter macrophage polarization and prevent renal fibrosis following AKI will be tested.
These studies should underpin the development of novel immunomodulatory therapies for AKI, which will have a significant positive impact on perioperative and critically ill patients.