2011 SCA-IARS Mid-Career Grant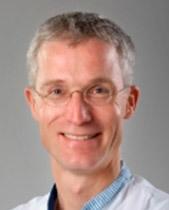 Diederik Van Dijk, MD, PhD
University Medical Center Utrecht
Utrecht, Netherlands
Dr. van Dijk's Research
The effect of dexamethasone on cognitive decline after cardiac surgery.
Related Publications
Intraoperative dexamethasone and delirium after cardiac surgery: a randomized clinical trial.
Sauër AM, Slooter AJ, Veldhuijzen DS, van Eijk MM, Devlin JW, van Dijk D.
Delirium is common after cardiac surgery and may be partly related to the systemic inflammatory response triggered by the surgery and the use of cardiopulmonary bypass. We hypothesized that intraoperative administration of high-dose dexamethasone, a drug with potent anti-inflammatory effects, would reduce the incidence of delirium at any time point during the first 4 postoperative days after cardiac surgery.
Effects of dexamethasone on cognitive decline after cardiac surgery: a randomized clinical trial.
Ottens TH, Dieleman JM, Sauër AM, Peelen LM, Nierich AP, de Groot WJ, Nathoe HM, Buijsrogge MP, Kalkman CJ, van Dijk D; DExamethasone for Cardiac Surgery (DECS) Study Group.
Cardiac surgery can be complicated by postoperative cognitive decline (POCD), which is characterized by impaired memory function and intellectual ability. The systemic inflammatory response that is induced by major surgery and cardiopulmonary bypass may play an important role in the etiology of POCD. Prophylactic corticosteroids to attenuate the inflammatory response may therefore reduce the risk of POCD. The authors investigated the effect of intraoperative high-dose dexamethasone on the incidence of POCD at 1 month and 12 months after cardiac surgery.
Read Dr. van Dijk's recent publications and articles.
Support IARS
The IARS contributes more than $1 million each year to fund important anesthesia research. Your donation will help support innovative and forward-thinking anesthesia research and education initiatives, all of which are designed to benefit patient care. You can feel good knowing that 100% of your donation is directly allocated to research.