Continuing Medical Education Opportunities
The IARS helps you stay up-to-date in your practice and research in anesthesiology with multiple opportunities to claim CME.
A&A: The Anesthesiologist's Key Resource to Staying Current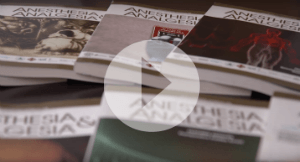 Established in 1922, Anesthesia & Analgesia provides the practice-oriented clinical research you need to keep current and deliver optimal care to your patients. Learn why you should be reading the journal and what role it serves for the anesthesia community.
IARS Membership
IARS is a unique group – solely dedicated to providing important information and resources to health professionals to improve patient care and advance education and scientific research related to anesthesiology.
Education Resources
IARS is your gateway to the education and knowledge crucial to advancing your research and practice in anesthesia. Take advantage of the wide variety of educational resources available through IARS.
Read IARS Publications & News
The IARS offers many publications and educational resources for its members, including Anesthesia & Analgesia, A&A Practice, and SmartTots News.