Your Trustee News
Long-Time Champion of IARS Dr. Santhanam Suresh Steps into Role of Chair
Santhanam Suresh, MD, MBA, FASA, FAAP, has assumed the role of Chair of the International Anesthesia Research Society (IARS) Board of Trustees effective April 1.
Meet Your Trustees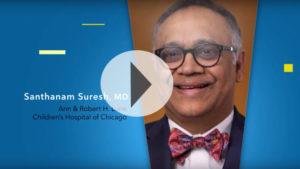 Santhanam Suresh, MD, MBA, FASA, FAAP
Dr. Santhanam Suresh discusses how IARS aims to be at the forefront of education for current and future anesthesiologists. Plus, learn why he finds the specialty of anesthesiology so rewarding.
IARS Commitment to Academic Excellence and Rigor
The IARS has learned that six published articles authored by Hironobu Ueshima, a member of the Department of Anesthesiology at Showa University Medical School in Tokyo, have been retracted from their respective publications due to unreliable data. An investigation by Showa University is ongoing.
Dr. Hiroshi Otake, who at the time was Chair of the Showa Anesthesiology Department and a member of the IARS Board of Trustees, was a co-author on the retracted papers. By mutual agreement, Dr. Otake subsequently resigned from the IARS Board.
The IARS has an obligation to uphold the highest standards in its governance and in the field of anesthesia research. The Society is deeply committed to ensuring complete academic integrity and is unwilling to accept or abide misconduct or the perception of misconduct. This commitment extends to the people who serve in IARS leadership.
The IARS is continuing to monitor further developments in this investigation. In the meantime, IARS leadership is redoubling its commitment to academic excellence and rigor. Our responsibility to our profession and to our patients demands nothing less.
Support IARS
The IARS contributes more than $1 million each year to fund important anesthesia research. Your donation will help support innovative and forward-thinking anesthesia research and education initiatives, all of which are designed to benefit patient care. You can feel good knowing that 100% of your donation is directly allocated to research.