2019 IARS Mentored Research Award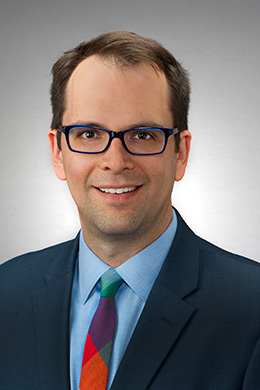 Benedict Alter, MD, PhD
Assistant Professor, Department of Anesthesiology and Perioperative Medicine, and
Director of Translational Pain Research,
University of Pittsburgh
Pittsburgh, PA
Dr. Atler's Research
Mechanisms and translational application of endogenous analgesia
The overall goal of this research is to better understand endogenous analgesia and optimize it for clinical translation. Endogenous systems modulate pain and underlie "conditioned analgesia," which contributes to placebo analgesia. Although placebo analgesia elicits powerful effects, systematic translation to the clinic has been challenging, since most placebo manipulations rely on deception to maintain expectations about getting an active drug. Patient deception prevents clinical translation since it is unethical. An alternative and novel approach utilized in this proposal is to capitalize on a component mechanism underlying placebo analgesia, i.e. "conditioned analgesia". Associative conditioning techniques are combined with a psychophysical analgesic manipulation, leading to a conditioned association between conditioning cues and analgesia. Preliminary data indicate that visual conditioning cues can be used to condition offset analgesia. In Aim 1, the underlying mechanisms of conditioned offset analgesia are investigated. In Aim 2, aspects of the conditioning paradigm are optimized for translation. The relevance to anesthesiology is high given exciting potential applications in acute and chronic pain management. This research is high impact because future translation of this conditioning technique is likely to reduce total opioid requirement for pain management. Given opioid-associated side effects like respiratory depression and abuse potential contributing to the current opioid epidemic, any reduction in opioid consumption with equivalent pain control is highly desirable. Using an extremely safe, nonpharmacologic approach like conditioned analgesia is even better, since nonopioid drugs carry their own side-effects and risks. For these reasons, examining the potential role of conditioned analgesia in pain management deserves special attention and rigorous evaluation.
Related Publications
The use of telemedicine to support interventional pain care: case series and commentary
Alter BJ, Navlani R, Abdullah L, Wasan AD, Heres E.
The use of telemedicine has recently seen a sharp increase in frequency due to the ongoing global COVID-19 pandemic. In this commentary, the authors review literature and share experiences in integrating telemedicine in procedural care. Findings show that there was not a significant progression of disease in the interval between a referring provider's evaluation and the pain physician's evaluation prior to ESI. This case series suggests that a simpler, but potentially less informative, telemedicine configuration with the pain physician interacting only with the patient is adequate. Additionally, telemedicine pain services may increase access to care with good patient acceptability and potentially increasing access to non-opioid treatments in rural areas.
Clearing up the Confusion: What to do with Ethanol and Ethanol Metabolites in Urine Drug Screens
Smith MD, Emerick T, Brancolini S, Alter BJ.
Over the past two decades, opioid overdose deaths in the US has been described as an epidemic. Increased rate of opioid medication prescribing, use of high potency opioids such as oxycodone and fentanyl, and an increasing number of patients receiving long-term opioid therapy have been documented as contributing factors. Alcohol misuse and alcohol use disorder have also been associated with considerable morbidity and mortality with alcohol-related deaths estimated at 3 million worldwide each year. Concomitant use of alcohol with opioid medication is shown as a contributing factor in many opioid-related deaths due to the combined effects. In this article, the authors attempt to resolve the confusion of what to do with ethanol and ethanol metabolites from urine drug screens.
Pulsed Radiofrequency Ablation: An Alternative Treatment Modality for Radiation Induced Brachial Plexopathy
Shah N, Engle AM, Raggi E, Alter BJ, Emerick T.
Radiation therapy is used as a form of treatment for various neoplastic diseases. The authors explore the many potential adverse effects of this therapy, including radiation-induced neurotoxicity. Radiation-induced brachial plexopathy (RIBP) may occur due to the fibrosis of neural and perineural soft tissues, leading to ischemic damage of the axons and Schwann cells. The dose of radiation exceeds 55 Gy in many patients who develop symptoms. Current incidence in the United States is 1–2%, and RIBP is most commonly seen in patients who have undergone treatment for cancer. Diagnosis is often made based on clinical presentation and evaluation of imaging to rule out concurrent malignant etiologies of the brachial plexus. Alternate treatment recommendations include physical therapy and medical management with anticonvulsants, tricyclic antidepressants, and selective serotonin-norepinephrine reuptake inhibitors.
Telemedicine for Chronic Pain in the COVID-19 Era and Beyond. Pain Medicine
Emerick T, Alter BJ, Jarquin S, Brancolini S, Bernstein C, Luong K, Morrissey S, Wasan AD.
This commentary presents combined expert opinions regarding the utility, implementation, and experiences of telemedicine in several multidisciplinary academic and community-based pain medicine practices, in a single metropolitan area. Despite several limitations of telemedicine, significant strengths exist, such that the authors foresee continued use of telemedicine to improve multi-disciplinary pain care beyond the emergency response to the COVID-19 pandemic.
Hierarchical clustering by patient-reported pain distribution alone identifies distinct chronic pain subgroups differing by pain intensity, quality, and clinical outcomes.
Alter BJ, Anderson NP, Gillman A, Yin Q, Jeong JH, Wasan AD.
In clinical practice, the bodily distribution of chronic pain is often used in conjunction with other signs and symptoms to support a diagnosis or treatment plan. It remains unclear whether patterns of pain distribution independently inform aspects of the pain experience and influence patient outcomes. This study evaluates the clinical relevance of patterns of pain distribution using an algorithmic approach agnostic to diagnosis or patient-reported facets of the pain experience. Pain distribution subgroups were significantly associated with differences in pain intensity, impact, and clinically relevant outcomes. Thus, in the future, algorithmic clustering by pain distribution may be an important facet in chronic pain biosignatures developed for the personalization of pain management.