2012 SCA-IARS Mid-Career Grant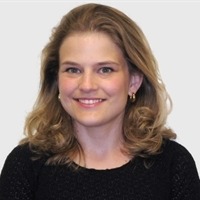 Amanda Fox, MD, MPH
Anesthesiologist, Brigham and Women's Hospital
Associate Professor of Anaesthesia, Harvard Medical School
Boston, Massachusetts
Dr. Fox's Research
Genome-wide assessment of genetic associations with heart failure after primary coronary artery bypass graft surgery.
Related Publications
GNAS gene variants affect β-blocker-related survival after coronary artery bypass grafting.
Frey UH, Muehlschlegel JD, Ochterbeck C, Fox AA, Shernan SK, Collard CD, Lichtner P, Peters J, Body S.
Cardiac overexpression of the β-adrenoreceptor (βAR)-coupled stimulatory G-protein subunit Gαs enhances inotropic responses to adrenergic stimulation and improves survival in mice under βAR blockade. The authors recently identified three common haplotypes in the GNAS gene encoding Gαs, with the greatest Gαs protein…
Genome-wide assessment for genetic variants associated with ventricular dysfunction after primary coronary artery bypass graft surgery.
Fox AA, Pretorius M, Liu KY, Collard CD, Perry TE, Shernan SK, De Jager PL, Hafler DA, Herman DS, DePalma SR, Roden DM, Muehlschlegel JD, Donahue BS, Darbar D, Seidman JG, Body SC, Seidman CE.
Postoperative ventricular dysfunction (VnD) occurs in 9-20% of coronary artery bypass graft (CABG) surgical patients and is associated with increased postoperative morbidity and mortality. Understanding genetic causes of postoperative VnD should enhance patient risk stratification and improve treatment and prevention strategies…
Read Dr. Fox's recent publications and articles.
Support IARS
The IARS contributes more than $1 million each year to fund important anesthesia research. Your donation will help support innovative and forward-thinking anesthesia research and education initiatives, all of which are designed to benefit patient care. You can feel good knowing that 100% of your donation is directly allocated to research.