2010 IARS Clinical Scholar Research Award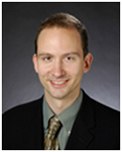 Wyndam Strodtbeck, MD
Differential Tolerance to Opioid-Mediated Analgesia and Respiratory Depression in Subjects Chronically Taking Opioids
Virginia Mason Medical Center
Seattle, Washington
Current Research
Prescription opioid overdoses are becoming a major cause of accidental death, particularly in patients with chronic opioid prescriptions.  Dr. Strodtbeck is evaluating whether the therapeutic index between analgesic efficacy and respiratory depression decreases with increased duration of opioid use.  He is interested specifically in determining whether chronic opioid exposure results in relatively greater tolerance to analgesic effects compared to respiratory depressant effects.  Findings from Dr. Strodtbeck's studies may have significant public health implications, as opioid prescriptions continue to escalate steadily.
"Clinical research is helping us understand some of the greatest safety issues that still remain in anesthesiology and pain medicine," said Dr. Strodtbeck.  "The clinical environment can have a large impact on whether discoveries made in the lab can be safely incorporated into widespread practice."
Research Background
Dr. Strodtbeck has served as a collaborator in several studies involving regional anesthesia and ultrasound guidance for post-operative pain procedures. As a clinical investigator, he aims to answer complex questions in pain medicine with an emphasis on chronic post-surgical pain.
Key Publication
Liu SS, Strodtbeck WM, Richman JM, Wu CL. Comparison of regional versus general anesthesia for ambulatory anesthesia: A meta-analysis of randomized controlled trials. Anesth Analg 2005:101, 1634-42.
Support IARS
The IARS contributes more than $1 million each year to fund important anesthesia research. Your donation will help support innovative and forward-thinking anesthesia research and education initiatives, all of which are designed to benefit patient care. You can feel good knowing that 100% of your donation is directly allocated to research.