2010 IARS Clinical Scholar Research Award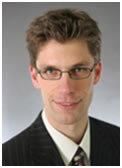 Patrick Meybohm, MD
Remote Ischemic Preconditioning for Congenital Heart Surgery
(RIPCoHeart-Study)
University Hospital Schleswig-Holstein
Kiel, Germany
Current Research
Congenital heart surgery with cardiopulmonary bypass has been associated with myocardial and neurological dysfunction due to perioperative ischemia.  In pediatric patients perioperative ischemia accounts for significant morbidity and mortality.  Remote ischemic preconditioning (RIPC) may serve as a non-invasive intervention, in which brief ischemia of non-vital tissue protects remote organs from a sustained episode of ischemia.
Dr. Meybohm is evaluating the effects of RIPC on the frequency and severity of perioperative ischemic events leading to myocardial and brain dysfunction in 180 pediatric patients undergoing complex congenital heart surgery.  Through his investigation, Dr. Meybohm intends to determine each pediatric patient's neurodevelopment status according to the Bayley Scales of Infant Development yielding the Mental and Psychomotor Indexes one year post surgery.
"Clinical research is the relevant link to bring out promising experimental data from the bench to the bedside," said Patrick Meybohm, MD.  "There is a huge need for clinical studies in order to facilitate the translation of future organ protection strategies for the benefit of patients."
Research Overview
Dr. Meybohm's primary areas of anesthesia research include:
Regional and global myocardial ischemia/reperfusion injury following cardiac arrest and cardiopulmonary resuscitation
Organ protection strategies, including mild hypothermia and pre- and post-conditioning with volatile anesthetics
 Perioperative organ protection in high-risk cardiac surgical patients
Funding and Recognition
In addition to receiving the 2010 Clinical Scholar Research Award, Dr. Meybohm was nominated in 2007 by the German Society of Anesthesiology for a young scientist mentorship program.  After receiving his IARS grant, he also received 1.4 million Euro from the German Research Foundation for a multicenter clinical trial.
Key Publications
Meybohm P, Gruenewald M, Zacharowski K, Albrecht M, Lucius R, Fösel N, Hensler J, Zitta K, Bein B.  Mild Hypothermia Alone or in Combination with Anesthetic Post-Conditioning Reduces Expression of Inflammatory Cytokines in the Cerebral Cortex After Cardiopulmonary Resuscitation.  Crit Care 2010; 14(1): R21
Meybohm P, Gruenewald M, Albrecht M, Zacharowski K, Lucius R, Zitta K, Koch A, Tran N, Scholz J, Bein B.  Hypothermia and Post-Conditioning After Cardiopulmonary Resuscitation Reduce Cardiac Dysfunction by Modulating Inflammation, Apoptosis and Remodeling.  PloS One 2009; 4(10): e7588
Meybohm P, Brand PA, Ufer M, Thiemann F, Steinfath M, Paris A, Scholz J, Bein B.  Additive Interaction of the Cannabinoid Receptor I Agonist Arachidonyl-2-Chloroethylamide with Etomidate in a Sedation Model in Mice.  Anesthesiology 2008; 108:669-674
Support IARS
The IARS contributes more than $1 million each year to fund important anesthesia research. Your donation will help support innovative and forward-thinking anesthesia research and education initiatives, all of which are designed to benefit patient care. You can feel good knowing that 100% of your donation is directly allocated to research.