2019 IARS Mentored Research Award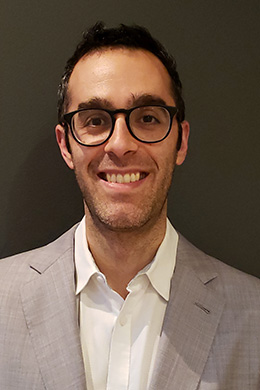 Benjamin Steinberg, MD, PhD, FRCPC
The Hospital for Sick Children
Assistant Professor, Staff Anesthesiologist
Toronto, Ontario, Canada
Dr. Steinberg's Research
The role of pyroptosis in neuropathic pain
Neuropathic pain (NeuP) is a critical public health challenge, affecting 5-10% of the general population. Patients with NeuP experience increased rates of mood disorders and sleep disturbance, which contribute to reduced quality of life and societal costs through decreased productivity and employment. The enormity of this problem speaks to the difficulty in managing NeuP. While anesthesiologists and pain specialists employ a broad range of therapies to treat NeuP, virtually all are associated with significant side-effects and limited efficacy.  Effective management strategies and an improved understanding of NeuP pathogenesis would better serve the millions of adults suffering from this devastating condition.
NeuP results from nerve dysfunction driven in part by proinflammatory cytokines. A subset of these important cytokines is secreted from immune cells through a pore made by the gasdermin D protein in an inflammation-driven process termed pyroptosis. To date, no published studies have demonstrated a role for pyroptosis in human or experimental NeuP.
Our overall objective is to investigate the fundamental interaction between the nervous and immune systems in the pathogenesis of NeuP. Our central hypothesis is that pyroptosis-mediated cytokine secretion drives NeuP development, and blockade of pyroptosis through gasdermin D inhibition may yield a novel therapeutic strategy for NeuP.
Using spared nerve injury and nucleus pulposus mouse NeuP models, we will evaluate nociceptive behavior. Pyroptosis will be blocked using gasdermin D genetic knockout or its inhibitor disulfiram. In vitro assays will probe the pyroptosis pathway in immune cells to identify potential loci for therapeutic intervention.
These studies will provide mechanistic insight into the inflammatory basis of NeuP and identify a new therapeutic target for drug development and investigation. Our goal is to perform fundamental and translational research in order to help our patients combat NeuP.
Support IARS
The IARS contributes more than $1 million each year to fund important anesthesia research. Your donation will help support innovative and forward-thinking anesthesia research and education initiatives, all of which are designed to benefit patient care. You can feel good knowing that 100% of your donation is directly allocated to research.