The Daily Dose • Monday, March 28, 2022
Kosaka Top Scholars Presentation Award Winner: Amy S. Tsai, BS (MD Candidate)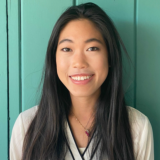 Harnessing biotechnology and artificial intelligence as tools to improve patient care spurred fourth-year medical student Amy S. Tsai's interest her current research area. Although still concluding her studies at University of California, Davis School of Medicine, Ms. Tsai caught the attention of the Kosaka Best Abstract Awards Session Judges Max B. Kelz, MD, PhD, and Y.S. Prakash, MD, PhD, with her abstract submission, "Integrated Single-cell and Plasma Proteomic Modeling to Predict Surgical Site Complications, A Prospective Cohort Study." As a result, they selected her as the Top Scholars Presentation Award recipient for the IARS 2022 Annual Meeting. This recognition is just one step towards her aspirations to become an anesthesiologist and her future aims to help improve postoperative outcomes, both perioperatively and preoperatively.
Professional Title: Medical Student (Incoming PGY-1)
Institution: I am a 4th year medical student at University of California, Davis School of Medicine and I have been working in Dr. Brice Gaudilliere's laboratory at Stanford School of Medicine since 2018.
Abstract Title: 
Integrated Single-cell and Plasma Proteomic Modeling to Predict Surgical Site Complications, A Prospective Cohort Study
For this research, you are…: Investigator
How long have you been at this institution? 
I have been a student at UC Davis for 4 years and conducting research at Stanford University for 6 years.
Do you conduct your research by yourself or with a team? 
I conduct my research with an amazing team of basic and clinical scientists as well as bioinformaticians, without whom, none of these projects would be feasible.
Is there anyone else you wish to acknowledge as part of this research team?
Brice Gaudilliere, MD, PhD – Dr. Gaudilliere has been my mentor and advocate for the past six years. He has taken the time to nurture my growth as a physician-scientist through endless support and a constant drive to expand and delve deeper into every research question.
Kristen Rumer, MD, PhD – Dr. Rumer is a colorectal surgeon who led the clinical aspects of this project.
Julien Hedou, MS – Julien is a bioinformatician who developed and implemented the machine learning methods utilized in the multivariate predictive modeling analyses of the project.
 What drew you to this area of research?
I have been interested in harnessing tools to improve patient care since graduating from college. When I first learned of mass cytometry, I was fascinated by the ability to directly study human immunology with such high resolution. From a simple blood draw, we can measure 1000+ proteins, as well as 200+ immune features. With the advent of imaging mass cytometry, we can apply similar techniques to study tissue samples with similarly impressive resolution. This field of research is constantly evolving and I was excited to take advantage of the newest innovations in biotechnology and artificial intelligence to improve patient care.
What is the goal of your research?
The goal of our research is to harness high-dimensional, single-cell technologies in studying clinically-relevant diseases. As an aspiring anesthesiologist, I am highly interested in improving postoperative outcomes either perioperatively, or hopefully through this study, preoperatively.
What's the most significant finding?
A patient's immune response immediately postoperatively reveals key biological information that can be used to predict if patients will develop surgical site complications within 30 days. More importantly, the results suggest that assessing a patient's preoperative immune state can accurately predict whether patients will develop a surgical site complication.
Will your findings directly impact patient care? If so, how?
The study results have important clinical implications for future efforts that will combine deep immune profiling of patients before surgery with advanced machine learning algorithms to improve clinical care through early-detection of at-risk individuals. Once at-risk individuals are identified, the perioperative care can be tailored to minimize this risk. For example, the timing or surgical approach can be optimized and high-risk patients can be enrolled in personalized prehabilitation programs that can improve surgical outcomes, such as infections as well as functional and cognitive recovery.
How has COVID-19 changed your learning/education needs?
The biggest change in my education is the conversion to a largely virtual platform, which is more accessible for busy clinicians and scientists, but also weakens some of the in-person interactions that I believe are necessary in collaborative research. This year's virtual meeting was executed very smoothly, but I am fond of the memories and colleagues I met in Montreal in 2019.
Do you see any changes becoming more permanent?
I see us moving towards a hybrid of online and in-person meetings in the future. While many progress report meetings can be conducted via Zoom, the excitement of meeting collaborators and attending conferences in new destinations cannot be replaced. Offering both virtual and in-person attendance at future meetings embraces the best of both worlds and allows more people to attend and future collaborations to be made!
How do you feel about receiving the Kosaka Best of Meeting Award?
I am thankful for the opportunity to share a small facet of the incredible work done in Dr. Brice Gaudilliere's laboratory at Stanford University. Looking at the amazing panel of researchers, I am humbled to be included within the prestigious field of academic anesthesiology.
Do you think this award will affect your research/professional trajectory? If so, how?
Absolutely! I am at the very beginning of my career and will be starting residency at Stanford this summer. An award like this symbolizes that my research career is heading in the right direction and that the research questions I am investigating hold merit and interest.
How has the COVID-19 pandemic affected your research and work over the past year?
At the peak of the COVID-19 pandemic, our lab adapted quickly to the changing policies and we emerged with even more streamlined operations. As meetings converted to the virtual platform, we were able to engage in multiple international collaborations in France, Germany, Belgium and Mexico. We redirected our resources to study how immune states can be used to stratify severity of COVID-19 disease which you can read about HERE. This project is being led by Dr. Dorien Feyaerts, PhD, a postdoctoral fellow in the Gaudilliere lab, and primary investigator Dr. David R. McIlwain, PhD at Stanford University in collaboration with Dr. Sergio Iván Valdés Ferrer at Instituto Nacional de Ciencias Médicas y Nutrición Salvador Zubirán in Mexico City.