The Daily Dose • Monday, March 28, 2022
Kosaka Top Clinical Research Award Winner: Megan K. Wong, BSE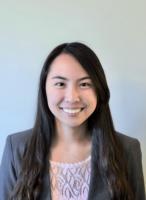 Megan K. Wong, BSE, a third-year medical student at Duke University School of Medicine, is intrigued by how anesthesia care can impact the brain and patient outcomes. It was this curiosity to better understand these mechanisms that drew her to her current research area, investigating the cause of postoperative cognitive dysfunction and delirium, particularly whether these disorders are related to changes in Alzheimer's disease pathways. In her research, "Cognitive and Cerebrospinal Fluid Alzheimer's Disease Biomarker Changes Over Time in Older Surgical Patients and Matched Nonsurgical Controls," presented at the Kosaka Best Abstract Award Session on Sunday, March 20 at the IARS 2022 Annual Meeting, she, in conjunction with over 100 co-investigators, is determined to unravel some of this mystery. Her determination paid off when she was selected as the 2022 Kosaka Top Clinical Research Award Winner. Learn more about her aspirations for this research and her career in the field of anesthesia.
Professional Title: 3rd year Medical Student
Institution: Duke University School of Medicine
Abstract Title:
Cognitive and Cerebrospinal Fluid Alzheimer's Disease Biomarker Changes Over Time in Older Surgical Patients and Matched Nonsurgical Controls
For this research, you are: Investigator
How long have you been at this institution?
I've been at Duke since I started undergrad here in 2015.
Do you conduct your research by yourself or with a team? 
There is a very large team involved in this research. This work covers results from the MADCO-PC study, which involved 100 co-investigators, including over 20 from Duke Anesthesiology and over 30 from Duke Surgery, as well as others from the Duke Center for the Study of Aging and Human Development and other institutions.
Is there anyone else you wish to acknowledge as part of this research team?
Duke Anesthesiology co-investigators included Drs. Rachel Beach, Michael Bullock, Brian Colin, Michael Devinney, Ashraf Habib, Ehimemen Iboaya, John Lemm, Joseph Mathew, Eugene Moretti, Mark Newman, Brian Ohlendorf, Quintin Quinones, Neil Ray, Scott Runyon, Aaron Sandler, Kendall Smith, Leonard Talbot, Nate Waldron, David Warner, Xueyan "Shelly" Wang, and Christopher Young. Dr. Melody Reese and Mary Cooter-Wright performed key analyses for this abstract, and Drs. Leah Acker and Chloe Nobuhara also helped put together info for this abstract.
What drew you to this area of research? 
Due to my prior work with neurological research and my developing interest in anesthesia, I was drawn towards this research at the intersection of those two fields. As I continued working with the group, I became more intrigued by the way in which anesthesia care can affect the brain and thereby impact patient outcomes. Many of these mechanisms are not yet fully understood, so it is exciting to be a part of these studies.
What is the goal of your research? 
Our group overall investigates the neurocognitive function of older adults in the perioperative setting. We seek to understand the cause of postoperative cognitive dysfunction and delirium, particularly whether these disorders are related to changes in Alzheimer's disease pathways. We also investigate the effect of perioperative care on long-term cognition to see if perioperative neurocognitive disorders increase the risk of developing Alzheimer's disease and related dementias. All of this research has the ultimate goal of improving outcomes for the millions of elderly patients who undergo surgery each year.
What's the most significant finding? 
We found that older adults undergoing noncardiac, nonneurologic surgery did not have accelerated Alzheimer's disease pathology (as measured by levels of Aβ and tau in their CSF) or greater cognitive decline over the following year vs. similar individuals who did not undergo surgery. However, our data also suggest there are multiple important determinants of 1-year cognitive change in older adults, aside from whether a patient has undergone anesthesia/surgery or not. Thus, even with demographic matching, cognitive comparisons between surgical and non-surgical control groups in matched cohort study designs may be confounded by the presence of unmeasured differences in baseline factors.
Will your findings directly impact patient care? If so, how?  
Our findings do not directly impact patient care, but they may help us better understand the variety of factors involved in promoting cognitive decline so that we can develop ways to reduce the incidence of perioperative neurocognitive disorders.
How do you feel about receiving the Kosaka Best of Meeting Award? 
I am very thankful I was granted the opportunity to present this research and extremely honored to receive this award. I am also grateful to work with such a supportive research group that made this large study possible and guided me to success.  
Do you think this award will affect your research/professional trajectory? If so, how? 
I think it will certainly have a positive impact on my career and give me more confidence in my future research pursuits, especially since this was my first experience at an academic conference. It can also help publicize my group's work to foster new collaborations.
How has the COVID-19 pandemic affected your research and work over the past year? 
The pandemic has affected many facets of my research and work. Our patient recruitment was slowed and many elective surgical cases, during which we collected data, were postponed or cancelled. Working on other projects/having classes remotely had its perks, but could also be isolating and make it more difficult to form connections with others. Fortunately, my clinical rotations were not impacted too significantly aside from requiring increased precautions.
How has COVID-19 changed your learning/education needs? Do you see any changes becoming more permanent? 
I do not believe my learning/education needs have changed much, but I have found it harder to learn certain things remotely and wish I had been able to interact with more researchers/colleagues in-person this year. Some virtual elements of events may become more permanent as they reduce travel expenses, increase convenience/flexibility, and broaden the audience, but there are still many other benefits of in-person events. I hope I will have the opportunity to attend more academic meetings in-person soon.