New IARS Trustee Dr. Duminda Wijeysundera has a Passion for Mentoring the Next Generation of Researchers
Duminda N. Wijeysundera, MD, PhD, FRCPC, FAHA, considers himself fortunate to have found a community of steadfast and dedicated mentors that guided and accelerated his path to becoming a successful clinician-scientist in anesthesiology and perioperative medicine. With a remarkable $7.5 million+ in peer-reviewed support from funders such as the Canadian Institutes of Health Research, Heart and Stroke Foundation of Canada, and the Ontario government and more than 300 peer-reviewed publications, and an h-index (as of January 2023) of 74, he has experienced the benefit of their support and encouragement in dividends. Dr. Wijeysundera is now an internationally recognized health policy expert on predicting, preventing and treating major complications after surgery. Over a 10-year period, Dr. Wijeysundera has rapidly progressed to full professor in both the Department of Anesthesiology and Pain Medicine, Faculty of Medicine and Institute for Health Policy, Management and Evaluation at the University of Toronto. Humble and modest about his own achievements, he refuses to focus only on his own accomplishments in the profession, but instead acts as a role model and advocate for the physician scientists who follow him. As a research leader, Dr. Wijeysundera is dedicated to developing and mentoring the next generation of collaborative, highly trained and successful anesthesiologist researchers, instilling in each one his commitment to pay it forward. This devotion will surely carry through Dr. Wijeysundera's service to the anesthesia community as one of the International Anesthesia Research Society (IARS) Board's newest Trustees.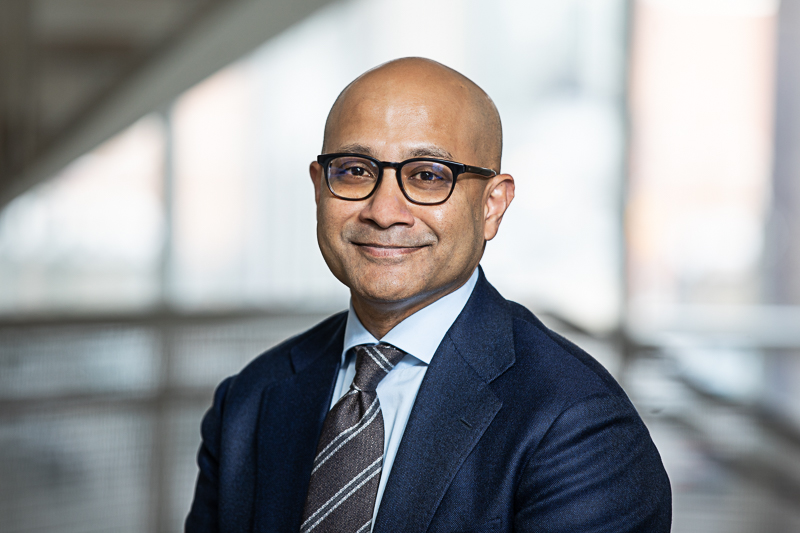 Duminda N. Wijeysundera, MD, PhD, FRCPC, FAHA
As a loyal member, faithful attendee of IARS Annual Meetings and peer reviewer for IARS research awards, Dr. Wijeysundera has witnessed how the IARS has supported research and provided a crucial stepping stone in the careers of early- and mid-stage investigators in the anesthesiology specialty. "One of my mentees received the IARS Mentored Research Award and he has done very well as a result of it," he shared. "I've seen how the award has helped others over the years." Despite witnessing this important role IARS played for his mentees and appreciating the organization's global reach, Dr. Wijeysundera had not considered joining the IARS Board of Trustees until one of his own dedicated mentors, Dr. Beverley Orser, IARS Board Chair-Elect and Secretary and Chair of the Department of Anesthesiology and Pain Medicine at the University of Toronto, brought the opportunity to his attention. "This is an example of where mentorship opens doors to you," he relayed. Also, an Endowed Chair in Translational Anesthesiology Research at St. Michael's Hospital and University of Toronto, Dr. Wijeysundera recognized that this new role would offer a unique, meaningful way for him to contribute to the future of the specialty.
Much of his research has been focused on just that – contributing to the anesthesiology specialty – but more importantly to helping vulnerable patients navigate back to the life they desire after surgery. Early on, Dr. Wijeysundera recognized that the definition of success after surgery could be quite narrow and he has spent most of his career striving to expand that definition. "I would see patients with a considerable amount of frailty who looked very vulnerable. I would think to myself, 'I can probably get them through the operation but I am really concerned about how they're going to function afterwards,'" he recalled. A natural conversationalist, Dr. Wijeysundera is convinced that interacting with patients is as important as medication to ease anxiety. "For somebody who's waiting on a big operation, actually our ability to convey a sense of calm, to be conversational with patients, to allay their fears, that is as therapeutic as anything else," he conveyed.
Dr. Wijeysundera's passion and dedication to the wellbeing of his patients translates to his research and his desire to mitigate the risk and impact of major complications, poor recovery and new disability after major surgery. Through his multicenter clinical research networks, he has contributed to successful studies in anesthesiology and perioperative medicine. Currently, his research team is completing recruitment for a study of 2,000 patients older than 65 years who had major surgery. They aim to identify what proportion of those patients run into trouble after surgery and what characteristics they share. Simultaneously, they are working to answer the question, what interventions and approaches might improve the patient's chances after surgery both physically and mentally? "We are really thinking about anesthesia as more than just in the operating room or short periods afterwards, but really being involved in the larger process of getting them back to the level of life they want," Dr. Wijeysundera conveyed. "We work on a lot of multicenter studies so we can work collaboratively with other individuals who are focused on the same area."
His research has been published in leading general and specialty journals, including The Lancet, JAMA, Circulation, JAMA Internal Medicine, BMJ, CMAJ, The Lancet Psychiatry, Anesthesiology, British Journal of Anaesthesia and Annals of Surgery. He also serves as an Associate Editor at Anesthesiology, and as a member of the Editorial Board at Circulation and the Canadian Journal of Anesthesia. Additionally, his efforts and service to the specialty have been noted by several scholarly and well-regarded organizations. In 2019, Dr. Wijeysundera became a Fellow of the American Heart Association. After conducting independent research for just over a decade, he was recognized as a Highly Cited Researcher in Clinical Medicine for exceptional research influence, based on multiple highly cited papers that rank in the top 1% by citations for field and year, by Clarivate™ Web of Science in 2020. He was one of only 27 Canadian researchers, and the only Canadian anesthesiologist, acknowledged in this category.
In 2021, he received the Research Recognition Award from the Canadian Anesthesiologists' Society as a senior investigator who has made sustained major contributions to anesthesia research in Canada. In 2022, Dr. Wijeysundera was appointed to the Royal Society of Canada as a member of the College of New Scholars, Artists, and Scientists. He is the only anesthesiologist who is a member of the New Scholars College and was elected based on his demonstrated leadership of scholarly research and artistic excellence within 15 years following the completion of postdoctoral training.
Surprisingly, his entry to the anesthesiology specialty happened by accident. Convinced he would focus on critical care medicine or cardiology and, required to commit to a medical specialty early in his training, he matched with internal medicine initially. It wasn't until his last rotation that he discovered anesthesia. Immediately, he was drawn to the specialty and wished he had encountered it earlier. As luck would have it, an opportunity arose for him to transfer programs and his journey into a career as an anesthesiologist and clinician-scientist began. "In many ways it was a perfect fit for me. I'm glad I had that elective afterwards, because I wouldn't have known otherwise that transferring over was one of the best things I did for starting my life," Dr. Wijeysundera reminisced. "I love the fact that there's a component of both applied physiology and knowledge, which is the internal medicine part of it." The technical part of anesthesia and continuing to improve procedures each time also attracted him.
From early in his career, Dr. Wijeysundera was fortunate to find supportive mentors to refine his craft and improve himself as a clinician-scientist. As he began his PhD in Clinical Epidemiology in Health Policy, Management and Evaluation at the University of Toronto in 2003, he found several of the principal champions for his career, both inside and outside of anesthesiology, which proved influential in formulating his career. This led to his practicing multidisciplinary research, working closely and collaboratively with surgeons, internists, methodologists, health services researchers and psychiatrists.
Today, he still holds close some of the advice from one of his initial mentors, a successful scientist with multiple high-impact applications. His mentor revealed that he found more gratification in seeing his students and his mentees succeed than in his own achievements. "At the start of my career, I focused a lot on building my own program, but once I reached the point where I was able to sustain things better, I had a real opportunity to work with great students and young investigators," he shared. "These are all bright, driven people who are going to succeed, and I am really the one who is actually gaining from them, learning from their ideas and energy, but helping them navigate that pathway." Where he can, Dr. Wijeysundera is opening doors and guiding these young investigators on their journey in academic medicine. He is encouraged to see many of his mentees already paying his confidence in their abilities forward to the next generation. "It is helping each other, creating a culture of collaboration and nurturing and building that larger community of people working together to move our specialty forward," he conveyed. "If we can foster that and get other people to do the same, I think there's a bright future for our specialty."