Continuing Medical Education Opportunities
The IARS helps you stay up-to-date in your practice and research in anesthesiology with multiple opportunities to claim CME.
Taking the Lead in a Global Crisis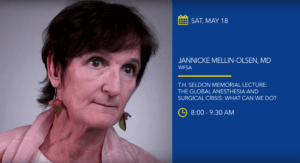 In this video, Dr. Jannicke Mellin-Olsen talks about the 5 billion people around the world that don't have access to safe, affordable surgery and the role anesthesiologists must play in addressing this crisis.
IARS Membership
IARS is a unique group – solely dedicated to providing important information and resources to health professionals to improve patient care and advance education and scientific research related to anesthesiology.
Education Resources
IARS is your gateway to the education and knowledge crucial to advancing your research and practice in anesthesia. Take advantage of the wide variety of educational resources available through IARS.
Read IARS Publications & News
The IARS offers many publications and educational resources for its members, including Anesthesia & Analgesia, A&A Practice, IARS360 and SmartTots News.
Here you can create the content that will be used within the module.
Support IARS
The IARS contributes more than $1 million each year to fund important anesthesia research. Your donation will help support innovative and forward-thinking anesthesia research and education initiatives, all of which are designed to benefit patient care. You can feel good knowing that 100% of your donation is directly allocated to research.