IARS, AUA and SOCCA Annual Meetings
May 16–20, 2019
Montreal, Quebec, Canada
Pack your bags, we're going to Montreal!
Here is the basic information you need about the IARS, AUA and SOCCA 2019 Annual Meetings so you can start planning. We are busy putting together three stellar meetings, and hope that you will visit regularly in the coming weeks to see program details as they come together.
We are now accepting Abstract Submissions for the all three meeting – tell us about your latest research now! Find out more on the Submit an Abstract page.
AUA Annual Meeting
May 16 -17, 2019
Welcome from Université de Montréal and McGill University
SOCCA Annual Meeting and Critical Care Update
May 17, 2019
IARS Annual Meeting and International Science Symposium
May 17 – 20, 2019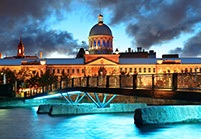 All three meetings will be held at the historic Fairmont The Queen Elizabeth hotel in downtown Montreal. If you've never been to Montreal, now is your chance. One of the greatest cities in the world, Montreal offers incredible dining, a vivacious art and culture scene, and an infectious love of life. This is NOT an Annual Meeting you want to miss!
A special room rate at the Fairmont The Queen Elizabeth hotel has been extended to IARS, AUA and SOCCA attendees. Be sure to check back in December to book your room – space is limited!
Registration for the IARS, AUA and SOCCA meeting will also open in December. And why not be an overachiever? Sign up for all three meetings and get the most of out of your Annual Meeting experience.
Support IARS
The IARS contributes more than $1 million each year to fund important anesthesia research. Your donation will help support innovative and forward-thinking anesthesia research and education initiatives, all of which are designed to benefit patient care. You can feel good knowing that 100% of your donation is directly allocated to research.